Most fashionistas and trendsetters of the world know that Mercedes-Benz Fashion Week just past recently last month and they all want to get out there and try out some of the hottest looks on the runway. But most of us don't have a big budget to cover the expensive looks that we so adore! So, I have put together a collection of looks from the runway with a similar look, but way more affordable. Fashion doesn't have to drain your pockets. Trust me, I know. :)
This zebra print Blumarine trench coat is a gorgeous, fresh approach to the classic trench. Although this particular trench isn't available to the public as of yet, I did find the motorcycle jacket that was in the same collection on the runway to be priced around $2,800. I'm pretty sure this piece is around that price as well.
Now on the other hand, this Ralph Lauren zebra print trench is easier to wear on a more frequent basis being that white is really hard to keep clean. Although the color is a bit darker than its Blumarine cousin, it still has a presence. This is very affordable; it goes for about $160. You can grab this beauty from the following link:
http://cgi.ebay.com/ws/eBayISAPI.dll?ViewItem&item=150502127824&hlp=false&rvr_id=151369316950&crlp=1_263602_304652&UA=WVS%3F&GUID=abee97381280a040b1912521ffd68714&itemid=150502127824&ff4=263602_304652
*******************************************************
This DKNY look is very sophisticated and chic, while not making you look dated. The sheer material of the shirt makes this look lean more towards casual than business attire. The cropped black pants say to the world "I'm an easy-going type of girl." Even without the jacket, its still a great look because seriously, who is going to wear a trench coat all day long? Especially if you're indoors most of the time. The scarf brings this whole look together and brings a subtle pop of color without overpowering the rest of the outfit.
Really, any classic, tan trench coat will do, as long as it doesn't have a lot of buttons since the DKNY trench has a zipper closure. I found a few trenches that seem the closest to replicate this DKNY look:
Nine West $54.99
http://www.overstock.com/Clothing-Shoes/Nine-West-Womens-Asymmetrical-Cotton-Twill-Trench/4714646/product.html?rcmndsrc=2
Michael Kors $115.99
This one actually has a detachable hood! Great for traveling in the rain
http://www.overstock.com/Clothing-Shoes/MICHAEL-Michael-Kors-Womens-Single-breasted-Hooded-Trench-Coat/4870360/product.html?cid=123620&fp=F&mr:trackingCode=6E04523C-52C1-DF11-98FF-0019B9C043EB&mr:referralID=NA
MNG by Mango $41.94
This particular top has an asymmetrical button hem which brings a uniqueness to this look in comparison to the DKNY look. The material is still really light and airy like its DKNY cousin.
You can grab this beauty @ the following link:
http://www4.jcpenney.com/jcp/X6.aspx?GrpTyp=PRD&ItemID=19b243f&deptid=70656&dep=WOMEN&catid=71637&pcat=WOMEN&cat=Tops&SO=0&pcatid=70656&Ne=29+3+5+596+1031+8+23+591+18+904+833+949&pagesize=1&N=4294953670+4294966654&cattyp=RLE&Nao=0&PSO=0&CmCatId=71637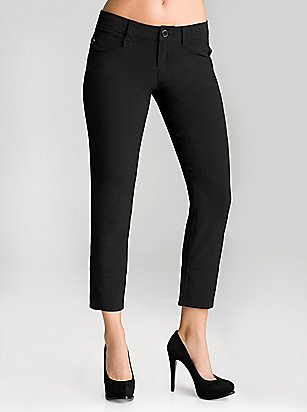 Guess $79
Although they are just simple, cropped pants, the fit on these Guess pants seem to be a bit tighter than the other pair making it a great fit for a more voluminous trench coat.
You can grab this beauty @ the following link:
http://shop.guess.com/Catalog/View/Women/Bottoms/Sasha%20Capris/W0FB52W0H40
Beta Accessories $24.50
Although this scarf isn't the exact print as the above DKNY look, it has the same colors and its really cool for this fall season. I do believe that there is only one of these available as of now since the items on Etsy's website are homemade.
You can grab this beauty @ the following link:
http://www.etsy.com/listing/56807620/vintage-70s-autumnal-pure-black-silk